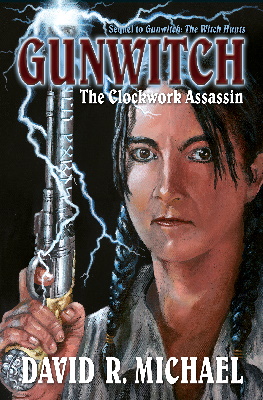 Gunwitch: The Clockwork Assassin
by David R. Michael
Novel (Rose Bainbridge, Gunwitch Book #3)
Rose Bainbridge, gunwitch, would prefer her return to New Venezia were more discreet. Instead, she's sailing into the busy port town aboard a known pirate vessel, in the company of the enigmatic orphan Janett Laxton, with the mutilated body of Lord Bernard Fuller in a coffin of ice. The assassin who killed Lord Fuller and–somehow–took his place, has already been in New Venezia for a week.
Who is he? Where is he from? Who will he kill next?
And how do you catch someone who can disguise themselves as anyone?
As Rose prepares to take the body to the authorities and expose the assassin, she wonders if anyone will believe her. And if she'll be able to keep Janett–who's magical gifts are becoming difficult to hide–out of trouble.
Published by Four Crows Landing.
Available in trade paperback and ebook formats at Amazon, Barnes & Noble, Apple iBookstore, Kobo, Smashwords, and more!